Send Parcel to Luxembourg
Luxembourg is one of the smallest European countries, built between deep gorges cut by the Alzette and Pétrusse rivers. And although it's a popular vacation destination, postage to Luxembourg is often expensive.
Luckily, there is an all-in-one solution for all your shipping needs. EcoParcel allows senders to conveniently order door-to-door delivery that matches their demands and eliminates the need to drop the parcel at the PUDO spot.
Plus, you are getting more than just trustworthy postage to Luxembourg. By sending your package with EcoParcel, you are eligible for parcel insurance, real-time tracking & fast-responsive customer support without having to pay extra!
How Ecoparcel Works?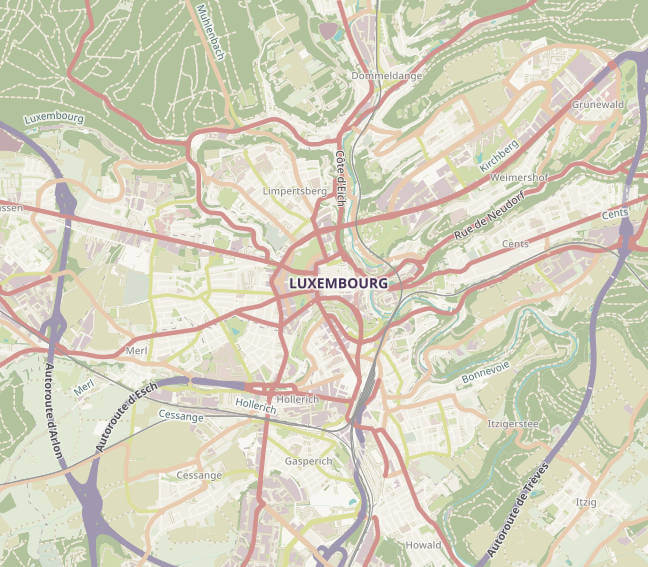 | From | To | Price | Weight | Est. Delivery | Type | Service |
| --- | --- | --- | --- | --- | --- | --- |
| Austria | Luxembourg | 10.43€ | 3kg | 2 - 4 days | Parcel | Collection -> Delivery |
| Belgium | Luxembourg | 10.70€ | 3kg | 1 - 2 days | Parcel | Collection -> Delivery |
| Bulgaria | Luxembourg | 10.45€ | 3kg | 5 - 7 days | Parcel | Collection -> Delivery |
| Croatia | Luxembourg | 4.59€ | 2kg | 3 - 5 days | Parcel | Collection -> Delivery |
| Czech Republic | Luxembourg | 10.46€ | 3kg | 3 - 5 days | Parcel | Collection -> Delivery |
| Denmark | Luxembourg | 11.01€ | 3kg | 3 - 5 days | Parcel | Collection -> Delivery |
| Estonia | Luxembourg | 12.61€ | 3kg | 4 - 6 days | Parcel | Collection -> Delivery |
| Finland | Luxembourg | 14.18€ | 3kg | 4 - 6 days | Parcel | Collection -> Delivery |
| France | Luxembourg | 12.28€ | 3kg | 2 - 4 days | Parcel | Collection -> Delivery |
| Germany | Luxembourg | 10.50€ | 3kg | 2 - 4 days | Parcel | Collection -> Delivery |
| Greece | Luxembourg | 13.61€ | 3kg | 6 - 8 days | Parcel | Collection -> Delivery |
| Hungary | Luxembourg | 10.53€ | 3kg | 4 - 6 days | Parcel | Collection -> Delivery |
| Ireland | Luxembourg | 17.30€ | 3kg | 2 - 4 days | Parcel | Collection -> Delivery |
| Italy | Luxembourg | 13.91€ | 3kg | 3 - 5 days | Parcel | Collection -> Delivery |
| Latvia | Luxembourg | 12.18€ | 3kg | 4 - 6 days | Parcel | Collection -> Delivery |
| Lithuania | Luxembourg | 11.61€ | 3kg | 4 - 6 days | Parcel | Collection -> Delivery |
| Luxembourg | Luxembourg | 7.40€ | 3kg | 1 - 2 days | Parcel | Collection -> Delivery |
| Netherlands | Luxembourg | 10.39€ | 3kg | 1 - 3 days | Parcel | Collection -> Delivery |
| Poland | Luxembourg | 10.31€ | 3kg | 2 - 4 days | Parcel | Collection -> Delivery |
| Portugal | Luxembourg | 6.30€ | 1kg | 3 - 5 days | Parcel | Collection -> Delivery |
| Romania | Luxembourg | 12.89€ | 3kg | 3 - 5 days | Parcel | Collection -> Delivery |
| Slovakia | Luxembourg | 10.21€ | 3kg | 2 - 4 days | Parcel | Collection -> Delivery |
| Slovenia | Luxembourg | 11.45€ | 3kg | 2 - 4 days | Parcel | Collection -> Delivery |
| Spain | Luxembourg | 10.85€ | 1kg | 2 - 4 days | Parcel | Collection -> Delivery |
| Sweden | Luxembourg | 11.94€ | 3kg | 3 - 5 days | Parcel | Collection -> Delivery |
| United Kingdom | Luxembourg | 11.14€ | 1kg | 3 - 5 days | Parcel | Collection -> Delivery |
Show more
Upcoming Public Holidays
Luxembourg
Christmas Day
(Chrëschtdag)
St. Stephen's Day
(Stiefesdag)
New Year's Day
(Neijoerschdag)
Easter Monday
(Ouschterméindeg)
Packing Guides For Your Items