Send Parcel to Helsinki
Helsinki is the capital of Finland, and it's also the home of more than 600 thousand people. And although Finland post is the most popular delivery service in the city, it often lacks speedy shipping options.
EcoParcel offers a way to send parcel to Helsinki smart — without spending tons of money. We are partnering with some of the world's best door-to-door courier companies like DPD, Posti, and others while finding exclusively low delivery prices.
Forget the worries of bringing your parcel to PUDO spots. The courier will take the postage from your address and deliver it to the recipient's door in Helsinki!
How Ecoparcel Works?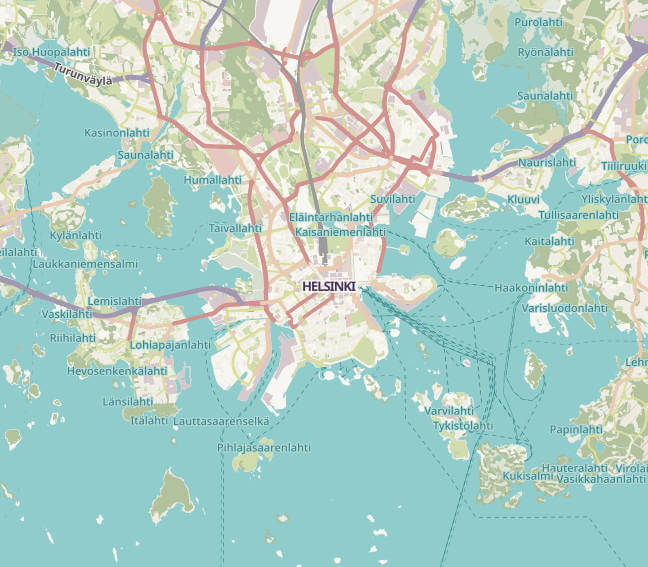 | From | To | Price | Weight | Est. Delivery | Type | Service |
| --- | --- | --- | --- | --- | --- | --- |
| Austria | Finland | 14.23€ | 3kg | 4 - 6 days | Parcel | Collection -> Delivery |
| Belgium | Finland | 12.60€ | 3kg | 4 - 6 days | Parcel | Collection -> Delivery |
| Bulgaria | Finland | 14.99€ | 3kg | 5 - 7 days | Parcel | Collection -> Delivery |
| Croatia | Finland | 11.72€ | 2kg | 5 - 7 days | Parcel | Collection -> Delivery |
| Czech Republic | Finland | 13.80€ | 3kg | 4 - 6 days | Parcel | Collection -> Delivery |
| Denmark | Finland | 14.35€ | 3kg | 3 - 5 days | Parcel | Collection -> Delivery |
| Estonia | Finland | 16.39€ | 3kg | 3 - 5 days | Parcel | Collection -> Delivery |
| Finland | Finland | 67.00€ | 1000kg | 1 - 3 days | Pallet | Collection -> Delivery |
| France | Finland | 16.80€ | 3kg | 3 - 5 days | Parcel | Collection -> Delivery |
| Germany | Finland | 15.40€ | 3kg | 4 - 6 days | Parcel | Collection -> Delivery |
| Greece | Finland | 16.95€ | 3kg | 7 - 9 days | Parcel | Collection -> Delivery |
| Hungary | Finland | 13.86€ | 3kg | 5 - 7 days | Parcel | Collection -> Delivery |
| Ireland | Finland | 23.40€ | 3kg | 6 - 8 days | Parcel | Collection -> Delivery |
| Italy | Finland | 17.80€ | 3kg | 4 - 6 days | Parcel | Collection -> Delivery |
| Latvia | Finland | 15.51€ | 3kg | 3 - 5 days | Parcel | Collection -> Delivery |
| Lithuania | Finland | 14.95€ | 3kg | 3 - 5 days | Parcel | Collection -> Delivery |
| Luxembourg | Finland | 14.18€ | 3kg | 4 - 6 days | Parcel | Collection -> Delivery |
| Netherlands | Finland | 13.73€ | 3kg | 3 - 5 days | Parcel | Collection -> Delivery |
| Poland | Finland | 13.65€ | 3kg | 2 - 4 days | Parcel | Collection -> Delivery |
| Portugal | Finland | 8.49€ | 1kg | 3 - 5 days | Parcel | Collection -> Delivery |
| Romania | Finland | 18.36€ | 3kg | 5 - 7 days | Parcel | Collection -> Delivery |
| Slovakia | Finland | 13.55€ | 3kg | 4 - 6 days | Parcel | Collection -> Delivery |
| Slovenia | Finland | 16.40€ | 3kg | 4 - 6 days | Parcel | Collection -> Delivery |
| Spain | Finland | 16.45€ | 3kg | 5 - 7 days | Parcel | Collection -> Delivery |
| Sweden | Finland | 16.00€ | 3kg | 1 - 3 days | Parcel | Collection -> Delivery |
| United Kingdom | Finland | 11.82€ | 1kg | 5 - 7 days | Parcel | Collection -> Delivery |
Show more
Upcoming Public Holidays
Finland
Christmas Eve
(Jouluaatto)
Christmas Day
(Joulupäivä)
St. Stephen's Day
(Tapaninpäivä)
New Year's Day
(Uudenvuodenpäivä)
Packing Guides For Your Items