Send Parcel to Vienna
Whether you are on going to a fancy ball and need your gown to arrive in Vienna on time or just need to send parcel without spending a fortune, it could be a hard task to complete.
However, Ecoparcel, an easy-to-use platform, you can choose the courier that offers the best postage to Vienna price and the fastest delivery. Just enter your country, destination address, and parcel's dimension — within moments, you will be presented with a plethora of available couriers.
So enjoy getting lost in the streets of Vienna and take a Danube river cruise without any worries about carrying your baggage! Send parcel to Vienna at ease with EcoParcel!
How Ecoparcel Works?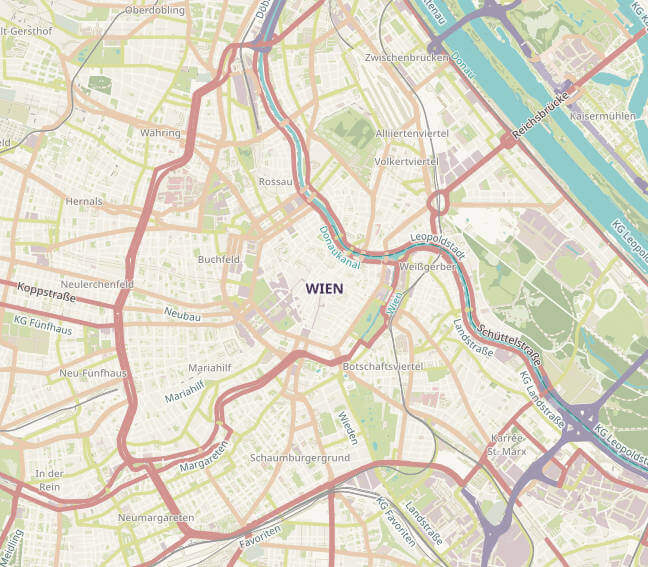 | From | To | Price | Weight | Est. Delivery | Type | Service |
| --- | --- | --- | --- | --- | --- | --- |
| Austria | Austria | 8.25€ | 5kg | 1 - 2 days | Parcel | Collection -> Delivery |
| Belgium | Austria | 10.29€ | 3kg | 2 - 4 days | Parcel | Collection -> Delivery |
| Bulgaria | Austria | 10.04€ | 3kg | 4 - 6 days | Parcel | Collection -> Delivery |
| Croatia | Austria | 3.98€ | 2kg | 2 - 4 days | Parcel | Collection -> Delivery |
| Czech Republic | Austria | 10.05€ | 3kg | 1 - 3 days | Parcel | Collection -> Delivery |
| Denmark | Austria | 9.43€ | 3kg | 2 - 4 days | Parcel | Collection -> Delivery |
| Estonia | Austria | 12.20€ | 3kg | 4 - 6 days | Parcel | Collection -> Delivery |
| Finland | Austria | 13.76€ | 3kg | 4 - 6 days | Parcel | Collection -> Delivery |
| France | Austria | 10.69€ | 3kg | 2 - 4 days | Parcel | Collection -> Delivery |
| Germany | Austria | 10.09€ | 3kg | 1 - 3 days | Parcel | Collection -> Delivery |
| Greece | Austria | 13.20€ | 3kg | 4 - 6 days | Parcel | Collection -> Delivery |
| Hungary | Austria | 8.66€ | 3kg | 1 - 3 days | Parcel | Collection -> Delivery |
| Ireland | Austria | 17.36€ | 3kg | 3 - 5 days | Parcel | Collection -> Delivery |
| Italy | Austria | 11.40€ | 3kg | 1 - 3 days | Parcel | Collection -> Delivery |
| Latvia | Austria | 11.76€ | 3kg | 3 - 5 days | Parcel | Collection -> Delivery |
| Lithuania | Austria | 11.20€ | 3kg | 3 - 5 days | Parcel | Collection -> Delivery |
| Luxembourg | Austria | 10.43€ | 3kg | 2 - 4 days | Parcel | Collection -> Delivery |
| Netherlands | Austria | 9.98€ | 3kg | 2 - 4 days | Parcel | Collection -> Delivery |
| Poland | Austria | 8.08€ | 3kg | 1 - 3 days | Parcel | Collection -> Delivery |
| Portugal | Austria | 7.66€ | 1kg | 3 - 5 days | Parcel | Collection -> Delivery |
| Romania | Austria | 10.39€ | 3kg | 1 - 3 days | Parcel | Collection -> Delivery |
| Slovakia | Austria | 9.80€ | 3kg | 1 - 3 days | Parcel | Collection -> Delivery |
| Slovenia | Austria | 11.04€ | 3kg | 1 - 3 days | Parcel | Collection -> Delivery |
| Spain | Austria | 10.04€ | 1kg | 2 - 4 days | Parcel | Collection -> Delivery |
| Sweden | Austria | 11.53€ | 3kg | 3 - 5 days | Parcel | Collection -> Delivery |
| United Kingdom | Austria | 7.73€ | 1kg | 4 - 6 days | Parcel | Collection -> Delivery |
Show more
Upcoming Public Holidays
Austria
National Holiday
(Nationalfeiertag)
All Saints' Day
(Allerheiligen)
Immaculate Conception
(Mariä Empfängnis)
Christmas Day
(Weihnachten)
Packing Guides For Your Items