Send Parcel to Vilnius
Vilnius is a city that dates back as old as 700 years and is home to more than 700 thousand people! From the Cathedral to the amazing nightlife, there is something for everyone.
But when you have postage to Vilnius needs, it can become quite expensive. Luckily, EcoParcel partners with some of the best local and international couriers to bring you cheaper & faster parcel delivery.
Order parcel delivery without leaving your home and stay up to date with the current parcel location by using the tracking feature for free!
How Ecoparcel Works?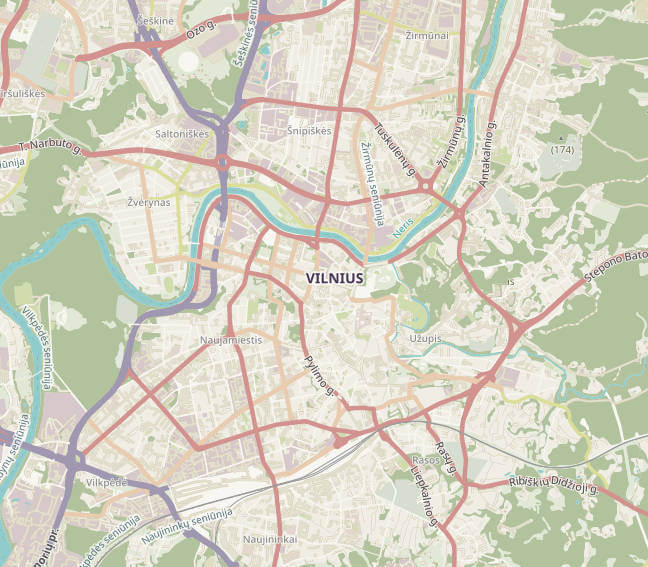 | From | To | Price | Weight | Est. Delivery | Type | Service |
| --- | --- | --- | --- | --- | --- | --- |
| Austria | Lithuania | 11.20€ | 3kg | 3 - 5 days | Parcel | Collection -> Delivery |
| Belgium | Lithuania | 10.35€ | 3kg | 3 - 5 days | Parcel | Collection -> Delivery |
| Bulgaria | Lithuania | 11.23€ | 3kg | 4 - 6 days | Parcel | Collection -> Delivery |
| Croatia | Lithuania | 5.20€ | 2kg | 3 - 5 days | Parcel | Collection -> Delivery |
| Czech Republic | Lithuania | 11.24€ | 3kg | 2 - 4 days | Parcel | Collection -> Delivery |
| Denmark | Lithuania | 11.79€ | 3kg | 3 - 5 days | Parcel | Collection -> Delivery |
| Estonia | Lithuania | 3.85€ | 2kg | 1 - 2 days | Parcel | Collection -> Delivery |
| Finland | Lithuania | 14.95€ | 3kg | 3 - 5 days | Parcel | Collection -> Delivery |
| France | Lithuania | 13.05€ | 3kg | 3 - 5 days | Parcel | Collection -> Delivery |
| Germany | Lithuania | 9.20€ | 3kg | 2 - 4 days | Parcel | Collection -> Delivery |
| Greece | Lithuania | 14.39€ | 3kg | 6 - 8 days | Parcel | Collection -> Delivery |
| Hungary | Lithuania | 11.30€ | 3kg | 3 - 5 days | Parcel | Collection -> Delivery |
| Ireland | Lithuania | 18.08€ | 3kg | 4 - 6 days | Parcel | Collection -> Delivery |
| Italy | Lithuania | 12.98€ | 3kg | 3 - 5 days | Parcel | Collection -> Delivery |
| Latvia | Lithuania | 1.90€ | 2kg | 1 - 2 days | Parcel | Collection -> Delivery |
| Lithuania | Lithuania | -2.52€ | 30kg | 1 - 2 days | Parcel | Drop off -> Delivery |
| Luxembourg | Lithuania | 11.61€ | 3kg | 3 - 5 days | Parcel | Collection -> Delivery |
| Netherlands | Lithuania | 11.16€ | 3kg | 3 - 5 days | Parcel | Collection -> Delivery |
| Poland | Lithuania | 8.71€ | 3kg | 1 - 2 days | Parcel | Collection -> Delivery |
| Portugal | Lithuania | 7.66€ | 1kg | 3 - 5 days | Parcel | Collection -> Delivery |
| Romania | Lithuania | 13.66€ | 3kg | 3 - 5 days | Parcel | Collection -> Delivery |
| Slovakia | Lithuania | 10.99€ | 3kg | 2 - 4 days | Parcel | Collection -> Delivery |
| Slovenia | Lithuania | 12.23€ | 3kg | 2 - 4 days | Parcel | Collection -> Delivery |
| Spain | Lithuania | 13.43€ | 3kg | 4 - 6 days | Parcel | Collection -> Delivery |
| Sweden | Lithuania | 13.34€ | 3kg | 3 - 5 days | Parcel | Collection -> Delivery |
Show more
Upcoming Public Holidays
Lithuania
Christmas Eve
(Šv. Kūčios)
Christmas Day
(Šv. Kalėdos)
St. Stephen's Day
(Šv. Kalėdos)
New Year's Day
(Naujieji metai)
Packing Guides For Your Items