Send Parcel to Sofia
Sofia city is built on top of Roman ruins, and it truly breathes history. Tourists from around the world come to experience the beauty this city holds. However, when you want to send parcel to Sofia, it can become a hassle.
Are you searching for trusted postage to Sofia partner, but all of the offerings are out of your budget or fail to offer a fast delivery? With EcoParcel, you don't have to choose between fair courier delivery prices and speedy shipping.
EcoParcel partners with the world's best courier delivery companies so you can send parcel to Sofia and be sure that your package is in good hands!
How Ecoparcel Works?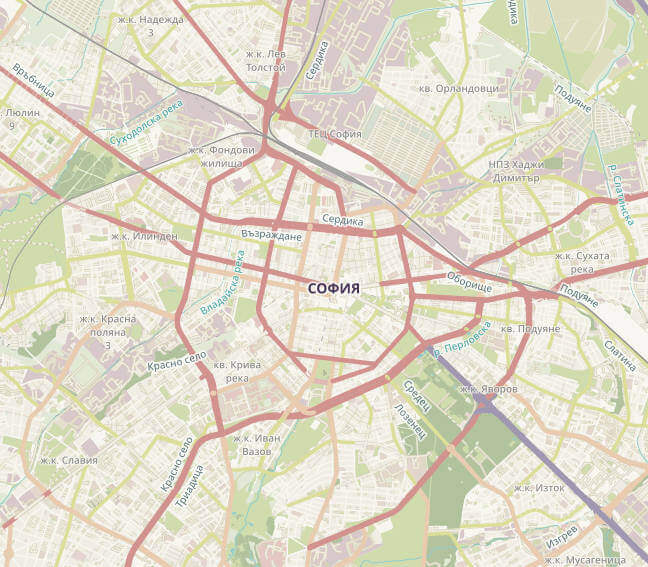 | From | To | Price | Weight | Est. Delivery | Type | Service |
| --- | --- | --- | --- | --- | --- | --- |
| Austria | Bulgaria | 10.04€ | 3kg | 3 - 5 days | Parcel | Collection -> Delivery |
| Belgium | Bulgaria | 11.56€ | 3kg | 4 - 6 days | Parcel | Collection -> Delivery |
| Bulgaria | Bulgaria | 67.00€ | 1000kg | 1 - 3 days | Pallet | Collection -> Delivery |
| Croatia | Bulgaria | 4.05€ | 2kg | 4 - 6 days | Parcel | Collection -> Delivery |
| Czech Republic | Bulgaria | 10.08€ | 3kg | 4 - 6 days | Parcel | Collection -> Delivery |
| Denmark | Bulgaria | 10.54€ | 3kg | 5 - 7 days | Parcel | Collection -> Delivery |
| Estonia | Bulgaria | 12.23€ | 3kg | 6 - 8 days | Parcel | Collection -> Delivery |
| Finland | Bulgaria | 13.79€ | 3kg | 6 - 8 days | Parcel | Collection -> Delivery |
| France | Bulgaria | 13.20€ | 3kg | 4 - 6 days | Parcel | Collection -> Delivery |
| Germany | Bulgaria | 10.11€ | 3kg | 4 - 6 days | Parcel | Collection -> Delivery |
| Greece | Bulgaria | 115.00€ | 1000kg | 4 - 6 days | Pallet | Collection -> Delivery |
| Hungary | Bulgaria | 10.14€ | 3kg | 3 - 5 days | Parcel | Collection -> Delivery |
| Ireland | Bulgaria | 15.56€ | 3kg | 6 - 8 days | Parcel | Collection -> Delivery |
| Italy | Bulgaria | 15.44€ | 3kg | 4 - 6 days | Parcel | Collection -> Delivery |
| Latvia | Bulgaria | 11.79€ | 3kg | 6 - 8 days | Parcel | Collection -> Delivery |
| Lithuania | Bulgaria | 9.73€ | 3kg | 4 - 6 days | Parcel | Collection -> Delivery |
| Luxembourg | Bulgaria | 10.45€ | 3kg | 5 - 7 days | Parcel | Collection -> Delivery |
| Netherlands | Bulgaria | 10.00€ | 3kg | 5 - 7 days | Parcel | Collection -> Delivery |
| Poland | Bulgaria | 9.93€ | 3kg | 3 - 5 days | Parcel | Collection -> Delivery |
| Portugal | Bulgaria | 11.29€ | 3kg | 5 - 7 days | Parcel | Collection -> Delivery |
| Romania | Bulgaria | 12.50€ | 3kg | 1 - 3 days | Parcel | Collection -> Delivery |
| Slovakia | Bulgaria | 9.83€ | 3kg | 3 - 5 days | Parcel | Collection -> Delivery |
| Slovenia | Bulgaria | 11.06€ | 3kg | 3 - 5 days | Parcel | Collection -> Delivery |
| Spain | Bulgaria | 18.00€ | 3kg | 5 - 7 days | Parcel | Collection -> Delivery |
| Sweden | Bulgaria | 12.33€ | 3kg | 5 - 7 days | Parcel | Collection -> Delivery |
| United Kingdom | Bulgaria | 7.44€ | 1kg | 6 - 8 days | Parcel | Collection -> Delivery |
Show more
Upcoming Public Holidays
Bulgaria
Christmas Eve
(Бъдни вечер)
Christmas Day
(Рождество Христово)
Christmas Day
(Рождество Христово)
New Year's Day
(Нова година)
Packing Guides For Your Items