Send Parcel to Ljubljana
Planning to visit Ljubljana and need to send parcel or luggage? Entrust your baggage to our top-rated courier partners. Wander around the city, visit the castle of Ljubljana, go through a Dragon bridge, and rest in Tivoli park. There's something for every tourist!
EcoParcel — your best friend for all your shipping needs. Save time, money and send parcel to Ljubljana completely hassle-free.
Choose from various international and local door-to-door courier companies that provide fast postage to Ljubljana services, trusted by millions of customers around Europe.
Forget the worries about monstrous delivery fees or long shipping times. EcoParcel courier partners are providing top-notch postage services at lower-than-average fees!
How Ecoparcel Works?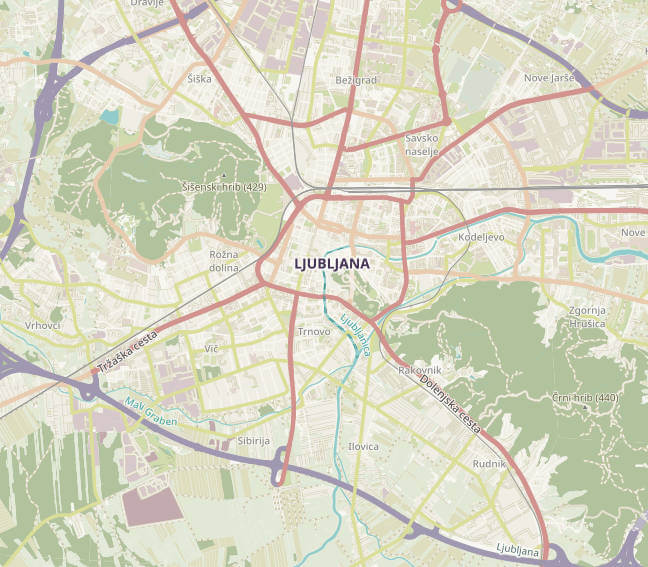 | From | To | Price | Weight | Est. Delivery | Type | Service |
| --- | --- | --- | --- | --- | --- | --- |
| Austria | Slovenia | 11.04€ | 3kg | 2 - 4 days | Parcel | Collection -> Delivery |
| Belgium | Slovenia | 11.31€ | 3kg | 4 - 6 days | Parcel | Collection -> Delivery |
| Bulgaria | Slovenia | 11.06€ | 3kg | 3 - 5 days | Parcel | Collection -> Delivery |
| Croatia | Slovenia | 3.35€ | 2kg | 1 - 3 days | Parcel | Collection -> Delivery |
| Czech Republic | Slovenia | 11.08€ | 3kg | 2 - 4 days | Parcel | Collection -> Delivery |
| Denmark | Slovenia | 11.63€ | 3kg | 4 - 6 days | Parcel | Collection -> Delivery |
| Estonia | Slovenia | 13.23€ | 3kg | 4 - 6 days | Parcel | Collection -> Delivery |
| Finland | Slovenia | 14.79€ | 3kg | 4 - 6 days | Parcel | Collection -> Delivery |
| France | Slovenia | 12.89€ | 3kg | 4 - 6 days | Parcel | Collection -> Delivery |
| Germany | Slovenia | 11.11€ | 3kg | 2 - 4 days | Parcel | Collection -> Delivery |
| Greece | Slovenia | 14.23€ | 3kg | 6 - 8 days | Parcel | Collection -> Delivery |
| Hungary | Slovenia | 11.14€ | 3kg | 1 - 3 days | Parcel | Collection -> Delivery |
| Ireland | Slovenia | 17.91€ | 3kg | 4 - 6 days | Parcel | Collection -> Delivery |
| Italy | Slovenia | 14.53€ | 3kg | 1 - 3 days | Parcel | Collection -> Delivery |
| Latvia | Slovenia | 12.79€ | 3kg | 3 - 5 days | Parcel | Collection -> Delivery |
| Lithuania | Slovenia | 12.23€ | 3kg | 3 - 5 days | Parcel | Collection -> Delivery |
| Luxembourg | Slovenia | 11.45€ | 3kg | 3 - 5 days | Parcel | Collection -> Delivery |
| Netherlands | Slovenia | 11.00€ | 3kg | 3 - 5 days | Parcel | Collection -> Delivery |
| Poland | Slovenia | 10.93€ | 3kg | 1 - 2 days | Parcel | Collection -> Delivery |
| Portugal | Slovenia | 7.66€ | 1kg | 3 - 5 days | Parcel | Collection -> Delivery |
| Romania | Slovenia | 13.50€ | 3kg | 2 - 4 days | Parcel | Collection -> Delivery |
| Slovakia | Slovenia | 10.83€ | 3kg | 1 - 3 days | Parcel | Collection -> Delivery |
| Slovenia | Slovenia | 67.00€ | 1000kg | 1 - 3 days | Pallet | Collection -> Delivery |
| Spain | Slovenia | 8.13€ | 10kg | 3 - 5 days | Parcel | Collection -> Delivery |
| Sweden | Slovenia | 13.33€ | 3kg | 4 - 6 days | Parcel | Collection -> Delivery |
| United Kingdom | Slovenia | 7.58€ | 1kg | 3 - 5 days | Parcel | Collection -> Delivery |
Show more
Upcoming Public Holidays
Slovenia
Independence and Unity Day
(dan samostojnosti in enotnosti)
New Year's Day
(novo leto)
New Year's Day
(novo leto)
Packing Guides For Your Items