Send Parcel to Brussels
Brussels is a true gem for foodies, with over 138 restaurants per square mile. If you plan your trip to Belgium and need to send parcel or luggage to Brussels without spending a hundred or two, local couriers might not be the best option.
EcoParcel redefines the complex postage to Brussels process — send a parcel to Belgium with just a few clicks. Once you choose the door-to-door courier that offers the best price and delivery combination, you will receive a parcel collection date. Track your parcel with a free-of-charge tracking feature.
Instead of picking one courier company, have a selection of the best couriers available at your fingertips with EcoParcel.
How Ecoparcel Works?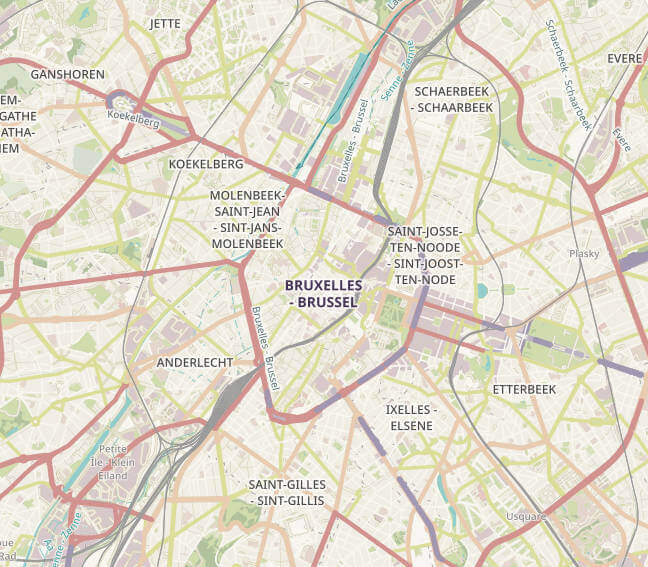 | From | To | Price | Weight | Est. Delivery | Type | Service |
| --- | --- | --- | --- | --- | --- | --- |
| Austria | Belgium | 10.29€ | 3kg | 2 - 4 days | Parcel | Collection -> Delivery |
| Belgium | Belgium | 7.13€ | 3kg | 1 - 2 days | Parcel | Collection -> Delivery |
| Bulgaria | Belgium | 10.31€ | 3kg | 5 - 7 days | Parcel | Collection -> Delivery |
| Croatia | Belgium | 3.70€ | 2kg | 3 - 5 days | Parcel | Collection -> Delivery |
| Czech Republic | Belgium | 10.33€ | 3kg | 2 - 4 days | Parcel | Collection -> Delivery |
| Denmark | Belgium | 9.10€ | 3kg | 2 - 4 days | Parcel | Collection -> Delivery |
| Estonia | Belgium | 12.48€ | 3kg | 4 - 6 days | Parcel | Collection -> Delivery |
| Finland | Belgium | 14.04€ | 3kg | 4 - 6 days | Parcel | Collection -> Delivery |
| France | Belgium | 10.23€ | 3kg | 1 - 3 days | Parcel | Collection -> Delivery |
| Germany | Belgium | 10.36€ | 3kg | 1 - 3 days | Parcel | Collection -> Delivery |
| Greece | Belgium | 13.48€ | 3kg | 5 - 7 days | Parcel | Collection -> Delivery |
| Hungary | Belgium | 9.53€ | 3kg | 2 - 4 days | Parcel | Collection -> Delivery |
| Ireland | Belgium | 18.90€ | 3kg | 3 - 5 days | Parcel | Collection -> Delivery |
| Italy | Belgium | 12.09€ | 3kg | 3 - 5 days | Parcel | Collection -> Delivery |
| Latvia | Belgium | 12.04€ | 3kg | 4 - 6 days | Parcel | Collection -> Delivery |
| Lithuania | Belgium | 8.01€ | 3kg | 3 - 5 days | Parcel | Collection -> Delivery |
| Luxembourg | Belgium | 10.70€ | 3kg | 1 - 2 days | Parcel | Collection -> Delivery |
| Netherlands | Belgium | 8.99€ | 3kg | 1 - 3 days | Parcel | Collection -> Delivery |
| Poland | Belgium | 8.24€ | 3kg | 1 - 3 days | Parcel | Collection -> Delivery |
| Portugal | Belgium | 3.20€ | 1kg | 2 - 4 days | Parcel | Collection -> Delivery |
| Romania | Belgium | 12.14€ | 3kg | 3 - 5 days | Parcel | Collection -> Delivery |
| Slovakia | Belgium | 10.08€ | 3kg | 2 - 4 days | Parcel | Collection -> Delivery |
| Slovenia | Belgium | 11.31€ | 3kg | 2 - 4 days | Parcel | Collection -> Delivery |
| Spain | Belgium | 9.45€ | 1kg | 2 - 4 days | Parcel | Collection -> Delivery |
| Sweden | Belgium | 11.80€ | 3kg | 3 - 5 days | Parcel | Collection -> Delivery |
| United Kingdom | Belgium | 8.20€ | 1kg | 3 - 5 days | Parcel | Collection -> Delivery |
Show more
Upcoming Public Holidays
Belgium
New Year's Day
(Nieuwjaar)
Easter Monday
(Paasmaandag)
Packing Guides For Your Items