Send Parcel to Bratislava
Bratislava, the capital of Slovakia, is set along the Danube river by the border with Hungary and Austria. Over the past few years, it has become a popular holiday destination, and more people are even looking to move to Bratislava from another Europe city!
If you are one of them or just have postage to Bratislava inquiry, don't overpay when you send parcel. Before ordering delivery from the local courier company, check the offers available on EcoParcel's platform.
Our platform gathers a list of trusted local and international door-to-door companies, and we are striving to get the best postage to Bratislava offer available!
How Ecoparcel Works?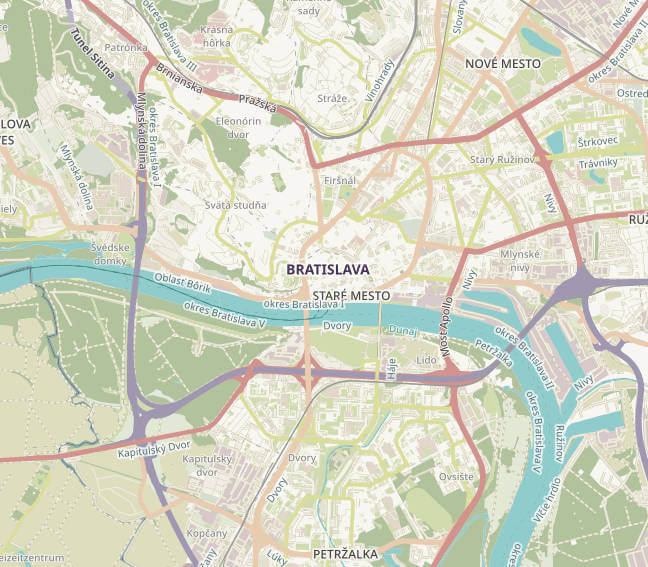 | From | To | Price | Weight | Est. Delivery | Type | Service |
| --- | --- | --- | --- | --- | --- | --- |
| Austria | Slovakia | 9.80€ | 3kg | 2 - 4 days | Parcel | Collection -> Delivery |
| Belgium | Slovakia | 10.08€ | 3kg | 4 - 6 days | Parcel | Collection -> Delivery |
| Bulgaria | Slovakia | 9.83€ | 3kg | 3 - 5 days | Parcel | Collection -> Delivery |
| Croatia | Slovakia | 3.57€ | 2kg | 2 - 4 days | Parcel | Collection -> Delivery |
| Czech Republic | Slovakia | 9.84€ | 3kg | 2 - 4 days | Parcel | Collection -> Delivery |
| Denmark | Slovakia | 9.04€ | 3kg | 4 - 6 days | Parcel | Collection -> Delivery |
| Estonia | Slovakia | 11.99€ | 3kg | 4 - 6 days | Parcel | Collection -> Delivery |
| Finland | Slovakia | 13.91€ | 3kg | 4 - 6 days | Parcel | Collection -> Delivery |
| France | Slovakia | 10.45€ | 3kg | 4 - 6 days | Parcel | Collection -> Delivery |
| Germany | Slovakia | 9.88€ | 3kg | 2 - 4 days | Parcel | Collection -> Delivery |
| Greece | Slovakia | 12.99€ | 3kg | 6 - 8 days | Parcel | Collection -> Delivery |
| Hungary | Slovakia | 8.94€ | 3kg | 1 - 3 days | Parcel | Collection -> Delivery |
| Ireland | Slovakia | 17.68€ | 3kg | 4 - 6 days | Parcel | Collection -> Delivery |
| Italy | Slovakia | 12.78€ | 3kg | 2 - 4 days | Parcel | Collection -> Delivery |
| Latvia | Slovakia | 11.55€ | 3kg | 3 - 5 days | Parcel | Collection -> Delivery |
| Lithuania | Slovakia | 9.68€ | 3kg | 4 - 6 days | Parcel | Collection -> Delivery |
| Luxembourg | Slovakia | 10.21€ | 3kg | 3 - 5 days | Parcel | Collection -> Delivery |
| Netherlands | Slovakia | 9.76€ | 3kg | 3 - 5 days | Parcel | Collection -> Delivery |
| Poland | Slovakia | 9.69€ | 3kg | 1 - 2 days | Parcel | Collection -> Delivery |
| Portugal | Slovakia | 7.66€ | 1kg | 3 - 5 days | Parcel | Collection -> Delivery |
| Romania | Slovakia | 12.25€ | 5kg | 2 - 4 days | Parcel | Collection -> Delivery |
| Slovakia | Slovakia | 67.00€ | 1000kg | 1 - 3 days | Pallet | Collection -> Delivery |
| Slovenia | Slovakia | 10.83€ | 3kg | 1 - 3 days | Parcel | Collection -> Delivery |
| Spain | Slovakia | 13.44€ | 3kg | 3 - 5 days | Parcel | Collection -> Delivery |
| Sweden | Slovakia | 12.09€ | 3kg | 4 - 6 days | Parcel | Collection -> Delivery |
| United Kingdom | Slovakia | 8.07€ | 1kg | 3 - 5 days | Parcel | Collection -> Delivery |
Show more
Upcoming Public Holidays
Slovakia
Christmas Eve
(Štedrý deň)
Christmas Day
(Prvý sviatok vianočný)
St. Stephen's Day
(Druhý sviatok vianočný)
Day of the Establishment of the Slovak Republic
(Deň vzniku Slovenskej republiky)
Packing Guides For Your Items